Frederick Short Term Rental Property Management
Let us Manage Your Short Term/ Fully Furnished Rental For You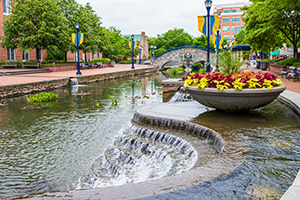 UTZ Property Management understands the differences between the management of short- and long-term rentals. From how the property is furnished, staged, marketed, to the communication with the guest and the need for a reliable cleaning and maintenance crew. We have a separate division dedicated to the needs of our short-term rental properties.
Short Term Rentals are essential to those coming to town for vacation, work or to visit family. Their desire to stay in a place that feels like home and offers them the amenities and comfort that a hotel can not offer them, is the reason short term rentals will continue to grow in popularity.
Interested in Short Term Rentals, But Don't know how to get started?
At UTZ Property Management, we have the resources to help you from start to finish. Using our Real Estate team specializing in investments, UTZ can help you find a property that will be profitable for a short-term rental. Our contractors and maintenance affiliates are able to facilitate any updates or repairs needed to get the property ready for rent. UTZ has furnished many properties and knows every detail is important and the key luxury items each space should have to enhance the guest experience. Based off of our experience and your budget we can turn any property into one that is highly sought after in your market! UTZ works with the best photographers to highlight every area of your space, so each potential guest is getting a clear and realistic depiction of the area. We utilize state of the art software that allows your property to be featured on multiple platforms. Once everything is set up, UTZ closely monitors the statistics and key metrics daily to make any modifications as needed.
Ready to Get Started, But Don't have the Upfront Cash?
UTZ Property Management makes getting into the short-term rental business easy. We can fully furnish your unit and give you the option to rent our furniture and linens. Why is this an advantage for you? If you are unsure if short term rentals is the direction for you, it allows you to try it out, risk free. Once you are convinced that short term rentals are the key to your financial freedom, you have the option to continue renting our furniture, or you can buy all the items purchased to furnish your space from UTZ.
How Much Can You Make from Short Term Rentals?
In Frederick, you can expect short term rentals to perform 30% better than long term rentals. UTZ looks at the changing statistics and metrics for each area we market and updates every listing based on the data we are finding. This helps optimize the properties and keeps your unit at the top of every guest search.
Ready to Get Started?
If you are interested in exploring a short-term rental strategy for your property, contact us to schedule a free consultation. We are a resource center and will be honest with you on if your property is a good fit for short term rentals, guide you as to the upfront cash commitment needed to get started, and consult with you on our monthly activity updates.